Essential Reads-Idiot's Guide to Publishing Children's Books-Harold Underdown
Essential Reads will cover the books or periodicals we feel are integral to begin your education about the Children's Market and the varied skills needed to prosper within it. So without further adieu!
Book #1-The Complete  Idiot's Guide to Publishing Children's Books by Harold Underdown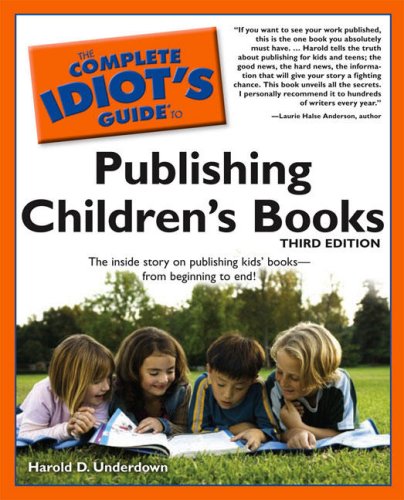 I have checked this book out so many times from the local library that they should have just given it to me. Instead I got tired of extending my check out time and broke down and bought my own copy. This book is essential for beginners and intermediate Illustrators and Writer's wanting to break into the Children's Book Market.
Mr. Underdown is an established Children's Book Editor/Freelance editorial Consultant  who has worked for such publishers as;  Macmillan, Orchard, and Charlesbridge. He has experience in both trade and educational publishing. He also runs an amazing online resource for the Children's Book Community called  "The Purple Crayon," a web site about the children's publishing world at www.underdown.org.
I can personally attest to the fact that Mr. Underdown is a nice individual and forthcoming with information and help. He has helped me more than once when I had a question about the industry. (Though, I probably do get on his nerves.)
The Complete Idiot's Guide to Children's Book Publishing takes you through how the publishing industry works. What you can expect from the industry. How to put together what you need for submissions. How to approach a potential traditional publisher or self publisher and research  the one's best suited to your work and style. Information about agents and art reps. As well as examples of submissions and query letters for various purposes. An elaborate glossary of terms and terminology that are native to  the industry as well as any number of  online resources that can further help you on your journey.  I assure you that's just the tip of the iceberg! This book is a goldmine!
You can pilfer yours from your local library to get an idea of it's contents.  You can also visit his website which features a number of sections from the book for free! But I assure you, you will end up at the book store or Amazon purchasing your personal copy in much the same way I did.
Be sure to add this resource to your library as an important tool in your quest towards knowledge of the industry and publication!
Links:
Harold Underdown's Website-The Purple Crayon
Purchase The Complete Idiot's Guide to Children's Book Publishing on Amazon
Harold's Facebook Page
Harold's Twitter Page